m

Line 5:
Line 5:
 

|luminance = None

 

|luminance = None

 

|flamability = No

 

|flamability = No

−

|renewable = Yes

+

|renewable =

 

|stackable = Yes (64)

 

|stackable = Yes (64)

 

|tool = Pickaxe

 

|tool = Pickaxe
---
Revision as of 13:47, 1 December 2018
Lelyetian Bricks is an orange brick decorative block.
Obtaining
Lelyetian bricks can be obtained by mining them with a pickaxe. If mined without a pickaxe, they will drop nothing.
Lelyetian bricks cannot be crafted.
Natural generation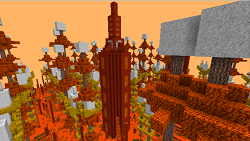 Lelyetian bricks can be naturally found as a part of the following structures:
Usage
Lelyetian bricks are used solely for building and decoration.
Data values
Id comparison between 1.7.10 and 1.12. These ids are what one would use in commands such as /give, /setblock, etc.
| Block | Old ID | New ID |
| --- | --- | --- |
|  Lelyetian Bricks | nevermine:bricksLelyetian | aoa3:lelyetia_bricks |
History
The following chart lists the changes lelyetian bricks went through in the different versions of the mod.
Version number
Snapshot
History and version differences
2.0
-
Lelyetian bricks make their first appearance in this version. They generate as a part of a lelyetian tower and graw pillar.
3.0
AoA3-Snapshot 6+
This is an upcoming version.
Lelyetian bricks id changed from nevermine:bricksLelyetian to aoa3:lelyetia_bricks.
Structures that contain lelyetian bricks have not yet been made in 1.12.2.
Natural blocks

Amethyst Ore • Baronyte Ore • Blazium Ore • Bloodstone Ore • Bone Fragments ( Chestbone Fragments Ore • Footbone Fragments Ore • Legbone Fragments Ore • Skullbone Fragments Ore) • Crystal Ores • Crystallite Ore • Deep Case • Elecanium Ore • Emberstone Ore • Gemenyte Ore • Ghoulish Ore • Ghastly Ore • Jade Ore • Jewelyte Ore • Limonite Ore • Lyon Ore • Mystite Ore • Ornamyte Ore • Rosite Ore • Runium Ore ( Charged Runium Ore) • Sapphire Ore • Shyregem Ore • Shyrestone Ore • Varsium Ore

Other natural blocks

Structure blocks

Ancient Rock • Ancient Tiles • Archaic Ladder • Archaic Tiles • Baron Castle Wall • Baron Cube • Boney Block • Cog Block • Coral Cage • Cotton Candy • Dawnwood Bars • Degraded Steel • Gingerbread • Green Candy • Hive Wall • Iro Crate • Iropole • Kaiyu Temple Blocks • Lunar Pillar • Paravite Hive • Plastic • Red Candy • Spikey Pillar • White Candy

Baron Bricks • Black Mysterium Bricks • Bloodstone Bricks • Coral Bricks • Creeponian Bricks • Crystallite Bricks • Crystevian Bricks • Dark Bricks • Darkwash Bricks • Gardencian Bricks • Greckon Bricks • Green Mysterium Bricks • Haunted Bricks • Iro Brick • Lelyetian Bricks • Lunar Bricks • Rosidian Bricks • Runic Bricks • Runic Construct Bricks • Shyre Bricks • Skeletal Bricks • Whitewash Bricks

Abyssal Glass • Ancient Glass • Aquatic Glass • Archaic Glass • Baron Glass • Decayed Glass • Gardencian Glass • Haven Glass • Iro Glass • Lab Glass • Lelyetian Glass • Lunar Glass • Runic Glass • Shyre Glass • Vox Glass • Zhinx Glass

Block of Amethyst • Block of Baronyte • Block of Blazium • Block of Bloodstone • Block of Crystallite • Block of Elecanium • Block of Emberstone • Block of Gemenyte • Block of Jade • Block of Jewelyte • Block of Limonite • Block of Lyon • Block of Mystite • Block of Ornamyte • Block of Rosite • Block of Sapphire • Block of Shyregem • Block of Shyrestone • Block of Varsium • Ghastly Block • Ghoulish Block • Lunar Ingot Block • Skeletal Ingot Block

Lighting

Amethyst Lamp • Ancient Lamp • Aquatic Lamp • Archaic Light • Bloodstone Lamp • Circling Neon Lapis • Circling Neon Redstone • Creep Crystal • Crystallite Lamp • Darkstone • Deep Crystal • Donut Lab Lamps • Dustopian Lamp • Emberstone Lamp • Fire Lamp • Hive Light • Iro Lamp • Ivory Lamp • Jade Lamp • Limonite Lamp • Lunar Lamp • Mystic Lamp • Neon Lapis • Neon Lapis Triangles • Neon Redstone • Neon Redstone Triangles • Rosite Lamp • Runic Neon • Sapphire Lamp • Skeletal Lamp • Steel Light • Twinklestone • Vox Light

Wooden

Bloodwood Planks • Crate • Lucalus Planks • Shadow Planks • Stranglewood Planks • Cycade Planks • Irowood Planks • Lunide Planks • Runic Planks • Toxicwood Planks • Dawnwood Planks • Hauntedwood Planks • Achony Planks • Churry Planks • Shroom Planks • Celevus Planks • Creep Planks • Shyrewood Planks • Iro Box • Silvro Box • Domiguous Planks • Eucadon Planks • Melumia Planks • Opollo Planks

Achony Log • Blood Log • Celeve Stem • Churry Log • Creep Log • Cycade Log • Dawn Log • Domiguous Log • Eternal Log • Eucadon Log • Eyeball Log • Haunted Log • Haunted Large-Eyed Log • Haunted Red Eyes Log • Haunted Flashing Log • Haunted Purpling Log • Iro Log • Lucalus Log • Lunide Log • Melumia Log • Opollo Log • Runic Log • Shadow Log • Shyrewood • Stranglewood • Toxic Log • Vox Log

Foliage

Vein Leaves • Blood Leaves • Shadowblood Leaves • Yellow Haven Leaves • Pink Haven Leaves • Blue Haven Leaves • Red Haven Leaves • Purple Haven Leaves • Turquoise Haven Leaves • Stranglewood Leaves • Lucalus Leaves • Shadow Leaves • Cycade Leaves • Irogold Leaves • Irodust Leaves • Lunosso Leaves • Lunicia Leaves • Haunted Leaves • Runic Leaves • Dawn Leaves • Achony Leaves • Churry Leaves • Celevus • Creep Leaves • Shyre Leaves • Domiguous Leaves • Eucadon Leaves • Melumia Leaves • Silvro Leaves • Bubble Leaves • Opollo Leaves • Eternal Leaves

Mushroom Stems • Mushrooms • Mystic Bush • Mystic Ferns • Tentacle • Tentacle Eye • Blood Strands • Eye Block • Blood Pine • Eye Shrub • Tubeicles • Toxic Block • Skeletal Block • Black Mushroom • Black Mushroom Stem • Iro Grass • Irotops • Lurchians • Lunalip • Luntar • Tangle Thorns • Lucon Grass • Haven Grass (foliage) • Haunted Flower • Garden Grass • Lylips • Daileers • Petals • Flower Core • Plant Stem • Bureal Stocks • Coral • Magias • Rune Bulbs • Runic Bush • Deep Blooms • Deep Grass • Dead Grass • Toxic Stem • Dawn Bush • Dawn Flower • Dawn Grass • Lelyetian Grass • Lelyetian Wiggler • Lelyetian Stem • Lelyetian Core • Ancient Vines • Celevians • Celebulbs • Crystal Block • Crystal (foliage) • Candy Grass • Lollypop • Spearmint • Rainbow Grass • Creep Grass • Creep Flowers • Creep Vines • Fungi • Shrooms • Ocealites • Water Weeds • Haven Dales • Daylooms • Shyre Flower • Shyre Stock • Bulb Stock • Shadicles • Shadow Shrub • Mellians • Pertonias • Silver Grass • Deep Bulbs • Deep Vines • Deepshine • Fungi • Skull Block • Dark Skull Block • Haunted Orb • Flake Vine • Dawn Stocks • Dawn Bulb • Rock Candy • Rock Candy Grass • Crystal Candy • Marsh Tube • Mallow Pile • Marshmallow • Licorice • Chocolate Stocks • Chocolate Grass • Cactus • Peppermint • Shyre Cloud • Acid

Slab

Baron Bricks Slab • Black Mysterium Bricks Slab • Bloodstone Bricks Slab • Coral Bricks Slab • Creeponia Bricks Slab • Crystallite Bricks Slab • Crystevia Bricks Slab • Dark Bricks Slab • Darkwash Bricks Slab • Gardencia Bricks Slab • Greckon Bricks Slab • Green Mysterium Bricks Slab • Haunted Bricks Slab • Iro Bricks Slab • Iro Bricks Slab • Lelyetian Bricks Slab • Lunar Bricks Slab • Rosidian Bricks Slab • Runic Construct Bricks Slab • Skeletal Bricks Slab • White Shyre Bricks Slab • Whitewash Bricks Slab • Yellow Shyre Bricks Slab

Intricate Amethyst Ivory Slab • Intricate Ivory Slab • Intricate Jade Ivory Slab • Intricate Limonite Ivory Slab • Intricate Rosite Ivory Slab • Intricate Sapphire Ivory Slab • Natural Amethyst Ivory Slab • Natural Ivory Slab • Natural Jade Ivory Slab • Natural Limonite Ivory Slab • Natural Rosite Ivory Slab • Natural Sapphire Ivory Slab • Ornate Amethyst Ivory Slab • Ornate Ivory Slab • Ornate Jade Ivory Slab • Ornate Limonite Ivory Slab • Ornate Rosite Ivory Slab • Ornate Sapphire Ivory Slab • Patterned Amethyst Ivory Slab • Patterned Ivory Slab • Patterned Jade Ivory Slab • Patterned Limonite Ivory Slab • Patterned Rosite Ivory Slab • Patterned Sapphire Ivory Slab

Abyssal Stone Slab • Aromatic Stone Slab • Baron Stone Slab • Bright Rock Slab • Coral Rock Slab • Creep Stone Slab • Crystallised Rock Slab • Darkened Rock Slab • Dense Stone Slab • Fungal Rock Slab • Greckon Stone Slab • Hellstone Slab • Irostone Slab • Lelyetian Stone Slab • Polluted Stone Slab • Precasian Lower-Rock Slab • Precasian Surface-Rock Slab • Pressed Creep Stone Slab • Primed Stone Slab • Runic Stone Slab • Weightless Stone Slab

Stairs

Baron Bricks Stairs • Bloodstone Bricks Stairs • Coral Bricks Stairs • Creeponia Bricks Stairs • Crystallite Bricks Stairs • Crystevia Bricks Stairs • Dark Bricks Stairs • Darkwash Bricks Stairs • Gardencia Bricks Stairs • Greckon Bricks Stairs • Haunted Bricks Stairs • Iro Bricks Stairs • Iro Bricks Stairs • Lelyetia Bricks Stairs • • Lunar Bricks Stairs • Mysterium Black Bricks Stairs • Mysterium Green Bricks Stairs • Rosidian Bricks Stairs • Runic Construct Bricks Stairs • Shyre White Brick Stairs • Shyre Yellow Brick Stairs • Skeletal Bricks Stairs • Whitewash Bricks Stairs

Intricate Amethyst Ivory Stairs • Intricate Ivory Stairs • Intricate Jade Ivory Stairs • Intricate Limonite Ivory Stairs • Intricate Rosite Ivory Stairs • Intricate Sapphire Ivory Stairs • Natural Ivory Stairs • Natural Ivory Stairs • Natural Jade Ivory Stairs • Natural Limonite Ivory Stairs • Natural Rosite Ivory Stairs • Natural Sapphire Ivory Stairs • Ornate Amethyst Ivory Stairs • Ornate Ivory Stairs Ornate Jade Ivory Stairs • Ornate Limonite Ivory Stairs • Ornate Rosite Ivory Stairs • Ornate Sapphire Ivory Stairs • Patterned Ivory Stairs • Patterned Ivory Stairs • Patterned Jade Ivory Stairs • Patterned Limonite Ivory Stairs • Patterned Rosite Ivory Stairs • Patterned Sapphire Ivory Stairs

Abyssal Stone Stairs • Aromatic Stone Stairs • Baron Stone Stairs • Bright Rock Stairs • Coral Rock Stairs • Creep Stone Stairs • Crystallised Rock Stairs • Darkened Rock Stairs • Dense Stone Stairs • Fungal Rock Stairs • Greckon Stone Stairs • Hellstone Stairs • Irostone Stairs • Lelyetian Stone Stairs • Polluted Stone Stairs • Precasian Lower-Rock Stairs • Precasian Surface-Rock Stairs • Pressed Creep Stone Stairs • Primed Stone Stairs • Runic Stone Stairs • Weightless Stone Stairs

Walls

Bricks

Baron Bricks Wall • Black Mysterium Bricks Wall • Bloodstone Bricks Wall • Coral Bricks Wall • Creeponia Bricks Wall • Crystallite Bricks Wall • Crystevia Bricks Wall • Dark Bricks Wall • Darkwash Bricks Wall • Gardencia Bricks Wall • Greckon Bricks Wall • Green Mysterium Bricks Wall • Haunted Bricks Wall • Iro Dotted-Bricks Wall • Iro Striped-Bricks Wall • Lelyetian Bricks Wall • Lunar Bricks Wall • Rosidian Bricks Wall • Runic Construct Bricks Wall • Skeletal Bricks Wall • White Shyre Bricks Wall • Whitewash Bricks Wall • Yellow Shyre Bricks Wall

Ivory

Intricate Amethyst Ivory Wall • Intricate Ivory Wall • Intricate Jade Ivory Wall • Intricate Limonite Ivory Wall • Intricate Rosite Ivory Wall • Intricate Sapphire Ivory Wall • Natural Amethyst Ivory Wall • Natural Ivory Wall • Natural Jade Ivory Wall • Natural Limonite Ivory Wall • Natural Rosite Ivory Wall • Natural Sapphire Ivory Wall • Ornate Amethyst Ivory Wall • Ornate Ivory Wall • Ornate Jade Ivory Wall • Ornate Limonite Ivory Wall • Ornate Rosite Ivory Wall • Ornate Sapphire Ivory Wall • Patterned Amethyst Ivory Wall • Patterned Ivory Wall • Patterned Jade Ivory Wall • Patterned Limonite Ivory Wall • Patterned Rosite Ivory Wall • Patterned Sapphire Ivory Wall

Stone

Abyssal Stone Wall • Aromatic Stone Wall • Baron Stone Wall • Bright Rock Wall • Coral Rock Wall • Creep Stone Wall • Crystallised Rock Wall • Darkened Rock Wall • Dense Stone Wall • Fungal Rock Wall • Greckon Stone Wall • Hellstone Wall • Irostone Wall • Lelyetian Stone Wall • Polluted Stone Wall • Precasian Lower-Rock Wall • Precasian Surface-Rock Wall • Pressed Creep Stone Wall • Primed Stone Wall • Runic Stone Wall • Weightless Stone Wall

Buttons