Hive Nest
Statistics
Biome
Barathos
Consists of
Hive Wall
Hive Light
Hive Spawner
Version added
1.1
ID
HiveNest

The Hive Nest[1] is a structure that generates in the Barathos dimension where the Hive King boss can be battled.
Generation
[
]
Hive Nests have a 1 in 650 chance to generate per chunk by default. Only one hive nest can generate in a chunk.
Hive Nests will only generate if the block they will generate on is the biome's top block (Baron Ground).
Structure
[
]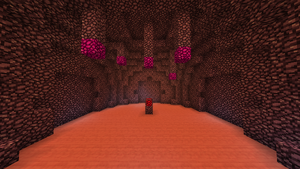 Hive Nests are small semi-spherical structures that are hollow on the inside. The inside of the structure is mostly empty, save for some hive lights hanging off the ceiling and a hive spawner in the center.
Mobs
[
]
Bosses
[
]
Loot
[
]
Boss Loot
[
]
Configuration
[
]
The player is able to configure the generation rate of Hive Nest in the mod's config file. By default the gen rate is set to 650.
References
[
]
The Abyss
Barathos
Candyland
Celeve
Creeponia
Crystevia

Crystal Creation structures

*

Crystal Extension Station

Deeplands
Dustopia
Gardencia
Greckon
Haven
Iromine

Iro Passage 1

Iro Passage 2

L'Borean
Lelyetia
Lunalus
Mysterium
The Nether
Overworld
Precasia
Runandor

Rune Randomisation Station

Runic Templar Bunker

Shyrelands
Vox Ponds

Enigma Platform

Vox Lotto Outpost

Nightwing Island

Voxxulon Beacon