Greckon (or the Greckon) is a very mountainous, haunted dimension.
Overview
[
]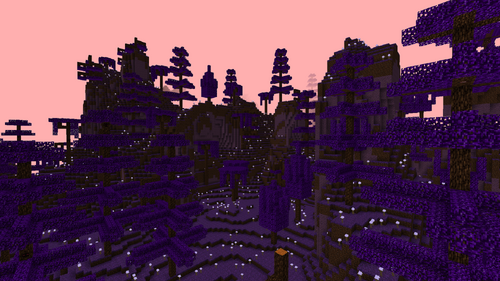 Accessing
[
]
The

Realmstone to this dimension can be obtained by using Nightmare Flakes on Elusive while having a Blank Realmstone in the player's inventory.
Generation
[
]
Greckon's landscape is quite mountainous and forested. Much of the structures and flora bear haunted traits, such as logs with eyes flashing in large holes, or large skulls that glow and dim slowly. Caves spawn in Greckon much like they do in the Overworld, but - like the Overworld - the caves are likely to house many dangerous monsters.
Blocks
[
]
Structures
[
]
There are four structures that can be found in Greckon:
Mobs
[
]
The mobs in Greckon have a creepy and ghastly atmosphere to them. They all also have unique AI. These mobs and their spawning conditions are listed below:
Hostile
[
]
See individual mob pages for more information.
NPCs
[
]
See individual mob pages for more information.
Bosses
[
]
| Name | Spawning Requirement |
| --- | --- |
| Bane | Spawned by throwing a Haunted Idol on the ground in Greckon and waiting for a few seconds |
See individual boss pages for more information.
Resources
[
]
Greckon Table
[
]
The Greckon Loot Table consists of the following items that can be dropped by all hostile mobs and bosses in the dimension (but not the NPCs):
Entity loot
Item
Quantity

Looting

Chance
Nothing
-
-
99.5%
Rare Table
1
-
0.5%
The above pool is rolled 1 time
Nothing
-
-
75.0%
Copper Coin
1-3
+-1.0-2.0 per level
25.0%
The above pool is rolled 1-3 times
Nothing
-
-
89.6%
Ghoulasm
1
+0.0-1.0 per level
10.0%
Haunted Upgrade Kit
1
-
0.5%
The above pool is rolled 1 time
Related Advancements
[
]
| Icon | Name | Description | Obtaining | Parent | ID | Hidden |
| --- | --- | --- | --- | --- | --- | --- |
| | The Haunted Lands | Visit Greckon | See description | — | aoa3:greckon/root | No |
 

Mod's dimensions

Vanilla dimensions
Other