Grass blocks are decoration blocks that form the surface of dimensions. All grass blocks share the same statistics (see infobox right).
Overview
[
]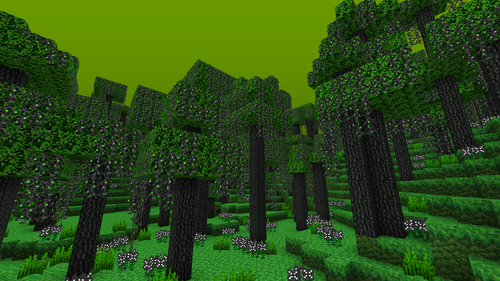 Grass blocks in the mod serve as a parallel to the grass block or mycelium found in vanilla Minecraft.
Obtaining
[
]
Like grass blocks in vanilla, grass blocks added by the mod can be mined with any tool, but a shovel remains the best way to break them. All grass blocks will only drop themselves when mined with a tool enchanted with Silk Touch. If they are mined with a tool that doesn't have Silk Touch, they instead drop a dirt or stone block, depending on the block (e.g.: Abyssal Grass drops abyssal stone, but candied grass drops candied dirt).
Natural generation
[
]
Just like vanilla grass blocks or mycelium generate on the surface of the overworld, the mod's grass blocks are found on the surface of many dimensions. See the chart below to see where each grass block type can be found.
Behavior
[
]
If the right conditions are met, then most, if not all grass blocks from the mod can convert the block it drops into another grass block if it is placed nearby. For example, irograss can convert irostone into irograss.
If a block is placed on top of most grass blocks, then the grass block will convert itself into the block it drops (e.g.: lunalyte grass will change to lunalyte dirt).
List of grass blocks
[
]