Gingerbread House
Statistics
Version added
2.3
ID
aoa3:gingerbread_house

The Gingerbread House is a structure that generates in Candyland.
Generation
[
]
Gingerbread Houses generate on the surface of Candyland.
Structure
[
]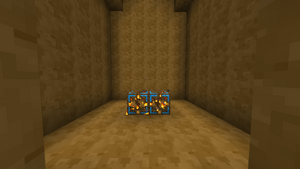 The Gingerbread House is a small house structure primarily made of Gingerbread. The inside is a single room with two spawners that spawn Gingerbread Men. Under the spawners is a chest with loot. There is a single entrance to the house.
Structure pieces
[
]
Structure piece
Description
Contents
Image
aoa3:candyland/gingerbread_house/gingerbread_house
Size: 10x11x10
Chest
Gingerbread
Red Candy


Spawner


White Candy
Mobs
[
]
Hostile mobs
[
]
Loot
[
]
Chest Loot
[
]
The Abyss
Barathos
Candyland
Celeve
Creeponia
Crystevia

Crystal Creation structures

*

Crystal Extension Station

Deeplands
Dustopia
Gardencia
Greckon
Haven
Iromine

Iro Passage 1

Iro Passage 2

L'Borean
Lelyetia
Lunalus
Mysterium
The Nether
Overworld
Precasia
Runandor

Rune Randomisation Station

Runic Templar Bunker

Shyrelands
Vox Ponds

Enigma Platform

Vox Lotto Outpost

Nightwing Island

Voxxulon Beacon