Coral Bricks
Coral Bricks is a blue brick decorative block.
Coral bricks can be obtained by mining them with a pickaxe. If mined without a pickaxe, they will drop nothing.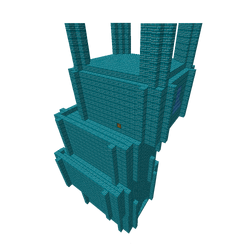 Coral bricks can be naturally found as a part of the following structures:
Coral bricks are used solely for building and decoration.
The following chart lists the changes coral bricks went through in the different versions of the mod.
Version number
Snapshot
History and version differences
1.0
-
Coral bricks make their first appearance in this version. They generate as a part of amphybite caves, the only structure at the time to feature them. Coral bricks are also craftable with whitewash bricks and a coralstone.
1.1
-
Coral bricks now generate in Aquatic Castle, Hydro Tower, L'Borean Lotto Structure, and Dracyon Platform structures as of this version. Coral bricks also generated as a part of the portal to L'Borean that was spawned in when using a L'Borean blueprint/generated in Gardencia.
2.0
-
Coral bricks are no longer found as a part of the portal to L'Borean as the blueprint and portal are removed in this version.
3.0
AoA3-Snapshot 6+
Coral bricks ID changed from nevermine:bricksCoral to aoa3:coral_bricks.
Structures that contain coral bricks and the crafting of coral bricks has not yet been made in 1.12.2.
Natural blocks

Amethyst Ore • Baronyte Ore • Blazium Ore • Bloodstone Ore • Bone Fragments ( Chestbone Fragments Ore • Footbone Fragments Ore • Legbone Fragments Ore • Skullbone Fragments Ore) • Crystal Ores • Crystallite Ore • Deep Case • Elecanium Ore • Emberstone Ore • Gemenyte Ore • Ghoulish Ore • Ghastly Ore • Jade Ore • Jewelyte Ore • Limonite Ore • Lyon Ore • Mystite Ore • Ornamyte Ore • Rosite Ore • Runium Ore ( Charged Runium Ore) • Sapphire Ore • Shyregem Ore • Shyrestone Ore • Varsium Ore

Other natural blocks

Structure blocks

Ancient Rock • Ancient Tiles • Archaic Ladder • Archaic Tiles • Baron Castle Wall • Baron Cube • Boney Block • Cog Block • Coral Cage • Cotton Candy • Dawnwood Bars • Degraded Steel • Gingerbread • Green Candy • Hive Wall • Iro Crate • Iropole • Kaiyu Temple Blocks • Lunar Pillar • Paravite Hive • Plastic • Red Candy • Spikey Pillar • White Candy

Baron Bricks • Black Mysterium Bricks • Bloodstone Bricks • Coral Bricks • Creeponian Bricks • Crystallite Bricks • Crystevian Bricks • Dark Bricks • Darkwash Bricks • Gardencian Bricks • Greckon Bricks • Green Mysterium Bricks • Haunted Bricks • Iro Brick • Lelyetian Bricks • Lunar Bricks • Rosidian Bricks • Runic Bricks • Runic Construct Bricks • Shyre Bricks • Skeletal Bricks • Whitewash Bricks

Block of Amethyst • Block of Baronyte • Block of Blazium • Block of Bloodstone • Block of Crystallite • Block of Elecanium • Block of Emberstone • Block of Gemenyte • Block of Jade • Block of Jewelyte • Block of Limonite • Block of Lyon • Block of Mystite • Block of Ornamyte • Block of Rosite • Block of Sapphire • Block of Shyregem • Block of Shyrestone • Block of Varsium • Ghastly Block • Ghoulish Block • Lunar Ingot Block • Skeletal Ingot Block

Lighting

Amethyst Lamp • Ancient Lamp • Aquatic Lamp • Archaic Light • Bloodstone Lamp • Circling Neon Lapis • Circling Neon Redstone • Creep Crystal • Crystallite Lamp • Darkstone • Deep Crystal • Donut Lab Lamps • Dustopian Lamp • Emberstone Lamp • Fire Lamp • Hive Light • Iro Lamp • Ivory Lamp • Jade Lamp • Limonite Lamp • Lunar Lamp • Mystic Lamp • Neon Lapis • Neon Lapis Triangles • Neon Redstone • Neon Redstone Triangles • Rosite Lamp • Runic Neon • Sapphire Lamp • Skeletal Lamp • Steel Light • Twinklestone • Vox Light

Wooden

Bloodwood Planks • Crate • Lucalus Planks • Shadow Planks • Stranglewood Planks • Cycade Planks • Irowood Planks • Lunide Planks • Runic Planks • Toxicwood Planks • Dawnwood Planks • Hauntedwood Planks • Achony Planks • Churry Planks • Shroom Planks • Celevus Planks • Creep Planks • Shyrewood Planks • Iro Box • Silvro Box • Domiguous Planks • Eucadon Planks • Melumia Planks • Opollo Planks

Achony Log • Blood Log • Celeve Stem • Churry Log • Creep Log • Cycade Log • Dawn Log • Domiguous Log • Eternal Log • Eucadon Log • Eyeball Log • Haunted Log • Haunted Large-Eyed Log • Haunted Red Eyes Log • Haunted Flashing Log • Haunted Purpling Log • Iro Log • Lucalus Log • Lunide Log • Melumia Log • Opollo Log • Runic Log • Shadow Log • Shyrewood • Stranglewood • Toxic Log • Vox Log

Foliage

Vein Leaves • Blood Leaves • Shadowblood Leaves • Yellow Haven Leaves • Pink Haven Leaves • Blue Haven Leaves • Red Haven Leaves • Purple Haven Leaves • Turquoise Haven Leaves • Stranglewood Leaves • Lucalus Leaves • Shadow Leaves • Cycade Leaves • Irogold Leaves • Irodust Leaves • Lunosso Leaves • Lunicia Leaves • Haunted Leaves • Runic Leaves • Dawn Leaves • Achony Leaves • Churry Leaves • Celevus • Creep Leaves • Shyre Leaves • Domiguous Leaves • Eucadon Leaves • Melumia Leaves • Silvro Leaves • Bubble Leaves • Opollo Leaves • Eternal Leaves

Mushroom Stems • Mushrooms • Mystic Bush • Mystic Ferns • Tentacle • Tentacle Eye • Blood Strands • Eye Block • Blood Pine • Eye Shrub • Tubeicles • Toxic Block • Skeletal Block • Black Mushroom • Black Mushroom Stem • Iro Grass • Irotops • Lurchians • Lunalip • Luntar • Tangle Thorns • Lucon Grass • Haven Grass (foliage) • Haunted Flower • Garden Grass • Lylips • Daileers • Petals • Flower Core • Plant Stem • Bureal Stocks • Coral • Magias • Rune Bulbs • Runic Bush • Deep Blooms • Deep Grass • Dead Grass • Toxic Stem • Dawn Bush • Dawn Flower • Dawn Grass • Lelyetian Grass • Lelyetian Wiggler • Lelyetian Stem • Lelyetian Core • Ancient Vines • Celevians • Celebulbs • Crystal Block • Crystal (foliage) • Candy Grass • Lollypop • Spearmint • Rainbow Grass • Creep Grass • Creep Flowers • Creep Vines • Fungi • Shrooms • Ocealites • Water Weeds • Haven Dales • Daylooms • Shyre Flower • Shyre Stock • Bulb Stock • Shadicles • Shadow Shrub • Mellians • Pertonias • Silver Grass • Deep Bulbs • Deep Vines • Deepshine • Fungi • Skull Block • Dark Skull Block • Haunted Orb • Flake Vine • Dawn Stocks • Dawn Bulb • Rock Candy • Rock Candy Grass • Crystal Candy • Marsh Tube • Mallow Pile • Marshmallow • Licorice • Chocolate Stocks • Chocolate Grass • Cactus • Peppermint • Shyre Cloud • Acid

Slab

Baron Bricks Slab • Black Mysterium Bricks Slab • Bloodstone Bricks Slab • Coral Bricks Slab • Creeponia Bricks Slab • Crystallite Bricks Slab • Crystevia Bricks Slab • Dark Bricks Slab • Darkwash Bricks Slab • Gardencia Bricks Slab • Greckon Bricks Slab • Green Mysterium Bricks Slab • Haunted Bricks Slab • Iro Bricks Slab • Iro Bricks Slab • Lelyetian Bricks Slab • Lunar Bricks Slab • Rosidian Bricks Slab • Runic Construct Bricks Slab • Skeletal Bricks Slab • White Shyre Bricks Slab • Whitewash Bricks Slab • Yellow Shyre Bricks Slab

Intricate Amethyst Ivory Slab • Intricate Ivory Slab • Intricate Jade Ivory Slab • Intricate Limonite Ivory Slab • Intricate Rosite Ivory Slab • Intricate Sapphire Ivory Slab • Natural Amethyst Ivory Slab • Natural Ivory Slab • Natural Jade Ivory Slab • Natural Limonite Ivory Slab • Natural Rosite Ivory Slab • Natural Sapphire Ivory Slab • Ornate Amethyst Ivory Slab • Ornate Ivory Slab • Ornate Jade Ivory Slab • Ornate Limonite Ivory Slab • Ornate Rosite Ivory Slab • Ornate Sapphire Ivory Slab • Patterned Amethyst Ivory Slab • Patterned Ivory Slab • Patterned Jade Ivory Slab • Patterned Limonite Ivory Slab • Patterned Rosite Ivory Slab • Patterned Sapphire Ivory Slab

Abyssal Stone Slab • Aromatic Stone Slab • Baron Stone Slab • Bright Rock Slab • Coral Rock Slab • Creep Stone Slab • Crystallised Rock Slab • Darkened Rock Slab • Dense Stone Slab • Fungal Rock Slab • Greckon Stone Slab • Hellstone Slab • Irostone Slab • Lelyetian Stone Slab • Polluted Stone Slab • Precasian Lower-Rock Slab • Precasian Surface-Rock Slab • Pressed Creep Stone Slab • Primed Stone Slab • Runic Stone Slab • Weightless Stone Slab

Stairs

Baron Bricks Stairs • Bloodstone Bricks Stairs • Coral Bricks Stairs • Creeponia Bricks Stairs • Crystallite Bricks Stairs • Crystevia Bricks Stairs • Dark Bricks Stairs • Darkwash Bricks Stairs • Gardencia Bricks Stairs • Greckon Bricks Stairs • Haunted Bricks Stairs • Iro Bricks Stairs • Iro Bricks Stairs • Lelyetia Bricks Stairs • • Lunar Bricks Stairs • Mysterium Black Bricks Stairs • Mysterium Green Bricks Stairs • Rosidian Bricks Stairs • Runic Construct Bricks Stairs • Shyre White Brick Stairs • Shyre Yellow Brick Stairs • Skeletal Bricks Stairs • Whitewash Bricks Stairs

Intricate Amethyst Ivory Stairs • Intricate Ivory Stairs • Intricate Jade Ivory Stairs • Intricate Limonite Ivory Stairs • Intricate Rosite Ivory Stairs • Intricate Sapphire Ivory Stairs • Natural Ivory Stairs • Natural Ivory Stairs • Natural Jade Ivory Stairs • Natural Limonite Ivory Stairs • Natural Rosite Ivory Stairs • Natural Sapphire Ivory Stairs • Ornate Amethyst Ivory Stairs • Ornate Ivory Stairs Ornate Jade Ivory Stairs • Ornate Limonite Ivory Stairs • Ornate Rosite Ivory Stairs • Ornate Sapphire Ivory Stairs • Patterned Ivory Stairs • Patterned Ivory Stairs • Patterned Jade Ivory Stairs • Patterned Limonite Ivory Stairs • Patterned Rosite Ivory Stairs • Patterned Sapphire Ivory Stairs

Abyssal Stone Stairs • Aromatic Stone Stairs • Baron Stone Stairs • Bright Rock Stairs • Coral Rock Stairs • Creep Stone Stairs • Crystallised Rock Stairs • Darkened Rock Stairs • Dense Stone Stairs • Fungal Rock Stairs • Greckon Stone Stairs • Hellstone Stairs • Irostone Stairs • Lelyetian Stone Stairs • Polluted Stone Stairs • Precasian Lower-Rock Stairs • Precasian Surface-Rock Stairs • Pressed Creep Stone Stairs • Primed Stone Stairs • Runic Stone Stairs • Weightless Stone Stairs

Walls

Baron Bricks Wall • Black Mysterium Bricks Wall • Bloodstone Bricks Wall • Coral Bricks Wall • Creeponia Bricks Wall • Crystallite Bricks Wall • Crystevia Bricks Wall • Dark Bricks Wall • Darkwash Bricks Wall • Gardencia Bricks Wall • Greckon Bricks Wall • Green Mysterium Bricks Wall • Haunted Bricks Wall • Iro Dotted-Bricks Wall • Iro Striped-Bricks Wall • Lelyetian Bricks Wall • Lunar Bricks Wall • Rosidian Bricks Wall • Runic Construct Bricks Wall • Skeletal Bricks Wall • White Shyre Bricks Wall • Whitewash Bricks Wall • Yellow Shyre Bricks Wall

Intricate Amethyst Ivory Wall • Intricate Ivory Wall • Intricate Jade Ivory Wall • Intricate Limonite Ivory Wall • Intricate Rosite Ivory Wall • Intricate Sapphire Ivory Wall • Natural Amethyst Ivory Wall • Natural Ivory Wall • Natural Jade Ivory Wall • Natural Limonite Ivory Wall • Natural Rosite Ivory Wall • Natural Sapphire Ivory Wall • Ornate Amethyst Ivory Wall • Ornate Ivory Wall • Ornate Jade Ivory Wall • Ornate Limonite Ivory Wall • Ornate Rosite Ivory Wall • Ornate Sapphire Ivory Wall • Patterned Amethyst Ivory Wall • Patterned Ivory Wall • Patterned Jade Ivory Wall • Patterned Limonite Ivory Wall • Patterned Rosite Ivory Wall • Patterned Sapphire Ivory Wall

Abyssal Stone Wall • Aromatic Stone Wall • Baron Stone Wall • Bright Rock Wall • Coral Rock Wall • Creep Stone Wall • Crystallised Rock Wall • Darkened Rock Wall • Dense Stone Wall • Fungal Rock Wall • Greckon Stone Wall • Hellstone Wall • Irostone Wall • Lelyetian Stone Wall • Polluted Stone Wall • Precasian Lower-Rock Wall • Precasian Surface-Rock Wall • Pressed Creep Stone Wall • Primed Stone Wall • Runic Stone Wall • Weightless Stone Wall

Buttons