Baron Castle
Statistics
Biome
Barathos
Version added
1.1
ID
aoa3:baron_castle

The Baron Castle[1] is a structure that generates in the Barathos dimension where the player can convert certain ingots into coins.
Generation
[
]
Baron Castles have a 1 in 650 chance to generate per chunk by default. Only one Baron Castle can generate in a chunk.
Baron Castles will only generate if the block they will generate on is the biome's top block (Baron Ground).
Structure
[
]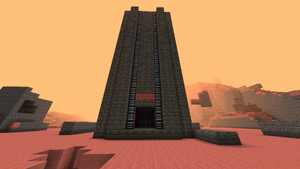 Baron Castles are tall towers made of baron castle walls, and lined with neon redstone. The entrance to the tower is at the bottom. Inside the tower are some staircases that lead up to several floors. Multiple spawnners that spawn Tharaflies exist in the tower. At the very top is a Mineralization Station.
Structure pieces
[
]
Structure piece
Description
Contents
Image
aoa3:barathos/baron_castle/baron_castle
Size: 14x37x15
Baron Castle Wall
Baron Glass
Chest
Hellstone
Mineralization Station
Neon Lamp


Spawner
Mobs
[
]
Loot
[
]
Chest Loot
[
]
Configuration
[
]
The player is able to configure the generation rate of Baron Castles in the mod's config file. By default the gen rate is set to 650.
References
[
]
The Abyss
Barathos
Candyland
Celeve
Creeponia
Crystevia

Crystal Creation structures

*

Crystal Extension Station

Deeplands
Dustopia
Gardencia
Greckon
Haven
Iromine

Iro Passage 1

Iro Passage 2

L'Borean
Lelyetia
Lunalus
Mysterium
The Nether
Overworld
Precasia
Runandor

Rune Randomisation Station

Runic Templar Bunker

Shyrelands
Vox Ponds

Enigma Platform

Vox Lotto Outpost

Nightwing Island

Voxxulon Beacon