Amphibiyte Cove
Statistics
Biome
Beach
Consists of
Coral Bricks
20px Sandstone
20px Glowstone
Amphibiyte Spawner
Version added
1.0
ID
AmphibiyteCove

The Amphibiyte Cove is a structure that generates in L'Borean.
Generation
[
]
Amphibiyte Coves generate randomly in L'Borean.
The default generation rate for Amphibiyte Coves is 1 in 20 chance per chunk. Only one Amphibiyte Cove can generate per chunk.
Structure
[
]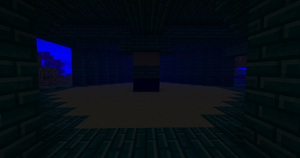 Amphibiyte Coves are small, dome shaped structures made out of Coral Bricks.
Inside there is 4 Amphibiyte Spawners.
Mobs
[
]
Hostile Mobs
[
]
Loot
[
]
Mob Loot
[
]
Configuration
[
]
The player is able to configure the generation rate of Amphibiyte Coves in the mod's config file. By default the gen rate is set to 20.
The Abyss
Barathos
Candyland
Celeve
Creeponia
Crystevia

Crystal Creation structures

*

Crystal Extension Station

Deeplands
Dustopia

Crusilisk Cage

Dustopian Village

Gardencia
Greckon
The Haven
Iromine

Iro Passage 1

Iro Passage 2

Professors lab

L'Borean

Dracyon Fountain

Drowned Lotto Stand

Lelyetia
Lunalus
Mysterium
The Nether
Overworld
Precasia
Runandor

Rune Randomisation Station

Runic Templar Bunker

Shyrelands
Vox Ponds

Enigma Platform

Vox Lotto Outpost

Nightwing Island

Voxxulon Beacon